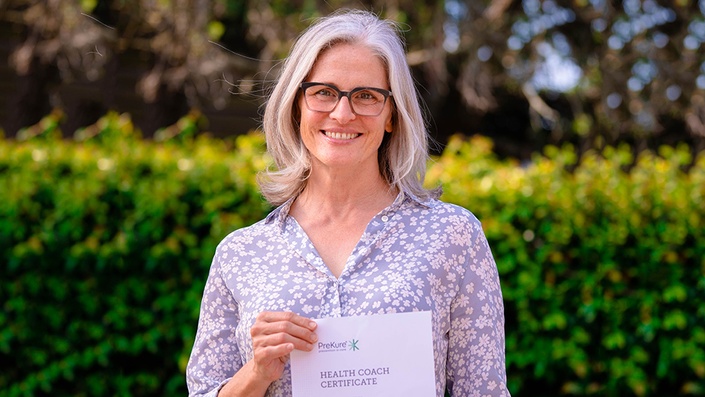 Endorsed by The Royal New Zealand College of General Practitioners.
Approved for CME, GPEP and CPD purposes.
The American Medical Association (AMA) encourages implementing Health Coaches into practices.
The NZQA has evaluated the Health Coach Certificate (Micro-credential) and assessed it to be equivalent to 30 credits at Level 5 on the NZQF.

Approved Health and Wellness Coaching Training by Health Coaches Australia & New Zealand Association.
Approved Health and Wellness Coaching School by The Health Coach Alliance Canada.
Get the world's best health coach training. At home, from credible medical, nutrition, coaching and wellness experts.
So you can live your best life.
Gain an in-depth understanding of the latest science
and evidence in prevention medicine.
We built this Certificate because people are looking to coach others in the latest science and evidence on lifestyle and prevention medicine. The courses that make up the Certificate are taught by recognised world experts and academics sharing only evidence-based knowledge and tools.
Behaviour change, neuroscience, motivational interviewing, habit formation, positive psychology - giving you the practical knowledge to help your family/clients make sustainable behaviour changes.
Science-based nutrition knowledge, tools and confidence - enabling you to have intelligent and informed conversations about food by understanding the science of what works, for whom and when.
Learn the latest trends and research in exercise and health, discover the latest techniques for longevity and optimal health, and gain a valuable understanding of the science of fitness.
Understand how to create a lifestyle that will optimise brain function, performance and wellbeing today and into old age. Find out about science of sleep and stress so you can stay in peak mental condition.
Practice the art and skill of coaching people in a safe and supportive environment.
The course includes 15 x 2.15 hour online LIVE coaching Labs. This is where you will be taught by our expert coaching faculty in an online live and interactive setting. You'll apply what you're learning in a safe environment, honing your skills so you'll feel confident when working with real patients and/or clients.
Surrounding yourself with your fellow Health Coach students will inspire and encourage you. These interactive sessions are where you will practice and share your experiences together and are an integral part of the PreKure Health Coaching training process and your success.
Study Online, at Home, Anytime
All our courses and labs are accessed from the convenience of your computer, smartphone or tablet, and all from the comfort of your own home.
Be free to learn on your own time, at your own pace, in your own space!
Get business advice and continue to develop your coaching skills
We also offer ongoing business advice and support to kick start your coaching business, as well as ongoing coaching skills practise and support with your coaching. Your success is our success.
The Health Coach Certificate is made up of 6 online courses and 40 hours of live, interactive coaching labs.